New TR 850 Injector relesed.
Many new improvement made to increase efficiency and ease of use.
The conveyor belt folds and locks in an upright position for easy cleaning and service.
Motor and gear with hollow axle shaft and encoder (no drum motor)
Service hoist for removal of needle head (optional)
Pneumatic cylinders elevate the transparent safety hatch for quick access.
8" colour display, Ergonomic programming of recipes and other information.
Hoses mounted to underside of brine bin for better monitor access to conveyor belt.
Quick opening/disassembly of needle head for cleaning
Pressure sensor with display for easy, accurate adjustments
Fine and coarse filter units solid mounted to the machine
Positive seals on needle head jacks.(no leakage inside machine structure)
Stainless check valve on needle head.
Service table for needle head (optional)
Tub for immersion of needle head in cleaning detergent (optional)
Tray for spare or service needles (optional)
Built-in weight sensors in conveyor belt, before and after needle head (optional)
Clamp keys used for quick removal of main hose clamps.
Electrical box inside the machine, only control panel on top.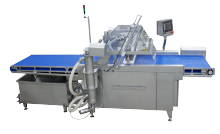 Related Equipment
Inject brine into fish while protecting the fish during injection, up to 10-30% more product to sell.
Request more information
English