A Brine Mixing system installed at Icelandic salt fish plant
A new brine mixing system has been designed from the ground up.
The new system is equipped with a new back flushing system and filtering system for cleaner brine.  Our new system is more efficient than older systems.
The revised system has a bigger buffer tank; a bigger ingredient tank with agitator; a bigger dissolving tank and separate pumping station that can service up to six outposts with independent brine mixture compositions. 
The system is perfectly adaptable to your current processing line as a powerful add on or replacement for older components.
The Brine mixing system is manufactured of stainless steel. It offers a low maintenance requirement with ergonomic cleaning access.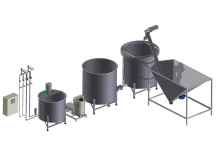 Related Equipment
Mix & Cure very easy and accurate when it comes to controlling salinity and mixing additives.
Request more information
English