The new models of TR-850 Injectors can be fitted with scale which make it very easy to monitor the increase in the weight. All data is achieved and easy to import to production system and collect information for organizing and control of the process continuously. Also the pressure is measured directly in the top of the needle bridge to ensure best possible adjustments of the needle pressure.
It is easy to connect the ReadLion touch screen with the plants computer system. Then it is possible to add production trace- ability system to know all about each and every tub, print out label with information about weight, time etc. As well it is easy to connect with brine preparation system to change recipe and control everything.
In principle complete panel control system for the whole production.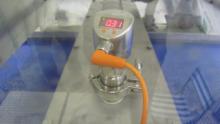 Related Equipment
Inject brine into fish while protecting the fish during injection, up to 10-30% more product to sell.
Request more information
English