Last December Traust Know How Ltd. installed and commenced operation of the first complete "fish-in-fish" line in Spain. With this new technology the raw material is reintroduced to the fish via injection, including pure fish protein, brine and other nutrients. The protein coagulates inside the fish and will not leak out. Taste is enhanced as well as texture. The result is an environmentally beneficial product besides the obvious economic appeal. The line includes the following items:
TR-850 Injector
Easy Brine mixing system, Easy Chiller,
Easy Mincer,
Easy Flaker for frozen block, Easy-Inject "Fish in Fish"
This high-tech system facilitates increased margin, raw material utilization and profit by processing undervalued trim. This line can be added to other processing lines or it can be expanded to include additional machinery for other processing based on need. The fish has the same appearance as before the injection. This is the first processing line of its kind that has been designed and developed in Iceland. Ease of maintenance, cleaning, disinfection and application is our central manufacturing aim.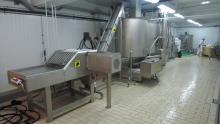 Related Equipment
Turn undervalued mince into an injectable suspension that integrates with the product permanently.
Request more information
English