Big producer in Portugal starts injecting salted fish on a big scale.
The new machines are an excellent addition to the processing plant. Automatic spreading of the salt. Trained workers not needed.
Much higher yield with the injecting machine. Perfect mixing of brine and additives to all parts of the plant.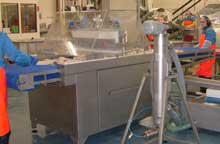 Related Equipment
Inject brine into fish while protecting the fish during injection, up to 10-30% more product to sell.
Request more information
English
Distributes salt evenly over the fish combined with a brine injector which injects brine directly into fish.
Request more information
English
---
Mix & Cure very easy and accurate when it comes to controlling salinity and mixing additives.
Request more information
English