We have just delivered another TR 850 Injector to Norway.
Our customer has already several earlier models of the TR 850 and decided to add the latest model with 968 needles. A new computer system and on touch color display make adjustment and supervising very easy. The program has many new advantages such as 100% control of speed of the needle bridge that make it possible to increase the time during injection with out decrease the capacity of the machine. Furthermore all machines are now easily adaptable to the Suspentec system with all necessary connection and computer program that can change from traditional injecting to protein injecting.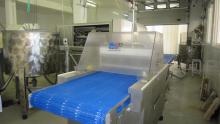 Related Equipment
Inject brine into fish while protecting the fish during injection, up to 10-30% more product to sell.
Request more information
English