News 
The New generation of TR-850 Injecting machine 2013. The new injecting machine has new technology to inject brine into fish. This technology protects the fish at the same time it injects more quantity of brine into the fish. In the new version you can have the 968 needles floating or fixed. One of the new features, it has on-board crane that makes it easier to clean or service the needle head. 
   Benefits of the new TR-850 XLT Injector:         
Preinstalled recipes and automatic brine control. Simple to add your own recipe
New "Easy Remote Manager" (PC connection) is standard in all of our machines today
New fixed needle plate for fish fillets easily removable, and floating needles for split fish
The new fixed needle plate for fish fillets can also be used in older injectors from Traust
New extra brine shock absorber that protects the delicate fish products
New heavy duty seals for needle head axel to protect motor compartment
New air cylinders to open and close the safety hood for needle head
New needle head service crane
New needle head service & sanitary table / tray
New conveyor cleaning position protocol, easy to clean and sanitize
New filter: Simple & easy to clean and sanitize
Optional: Built-in scale to monitor increased yield
Optional: Built in Easy Layer, to lay the fish in tubs 
Optional: Automatic tub changing system
Easy to clean and sanitize, the needle head can be turned 90° for easy access
Easy to change from injection to Easy-Inject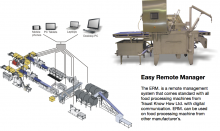 Related Equipment
Inject brine into fish while protecting the fish during injection, up to 10-30% more product to sell.
Request more information
English