New Dual Easy Layer system installed in Faroe Island.
This in a new design on the Easy Layer were the tub can travel under neath the Easy Layer. This dual system is connected to two separated injector´s and has two Easy Layers and
two Tub Handling System with Brine filling stations.
The system save labor and time in your process.
The system increase Hygiene and quality of you product.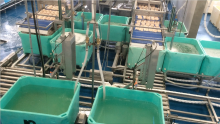 Related Equipment