New system introduced, less expensive, easier to run and less costly to maintain.
The filleting and trimming of fish invariably leaves out top quality raw material which hitherto would have been discarded. This is where our new TR-850 Injection line comes to the rescue. It is possible to make mince and get quality product from parts of the back- bones after the filleting is done.
This mince is as good as the fillet itself since it comes from the same area of the fish. Protein-Tec is a staged process where this valuable product is turned into mince and then reintroduced to the final product via injection process. This process returns profits to the production by reincorporating valuable material in the final product, which otherwise would have been discarded. Quality stays the same and the product bears no markings from this procedure.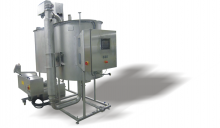 Related Equipment
Turn undervalued mince into an injectable suspension that integrates with the product permanently.
Request more information
English