Easy Flaker
The Traust Know-How Easy Flaker is a heavy duty industrial flaker built from stainless steel according to standards and safety features demanded by CE regulations.  
One of its main features is a rotating drum with specially designed flaker blades that grind the frozen block into a smooth flake composition that can be adjusted in thickness and consistency. 
A special automated conveyor system feeds the flaker. The frozen block can be stacked on top of the transfer drawer for automated processing. The pneumatic feeding system pushes the block towards the rotating drum automatically. On exit from the grider the flake emulsion passes through a delivery hatch where it gravitates down to a tub or conveyor for continuous delivery to other mechanized processing.  
The machine is normally set up to run in an automated mode but can easily be operated manually.  All electrical parts are located in an electrical box  attached to the machine where all contriols can be easily accessed for repairs or routine maintenance.
Features
Ergonomic design
Fully automated
Processes blocks of various sizes
Rugged stainless steel design
Adjustable thickness of flakes
Easy blade replacement
Measurable labor savings
Easy to clean & sanitize
Images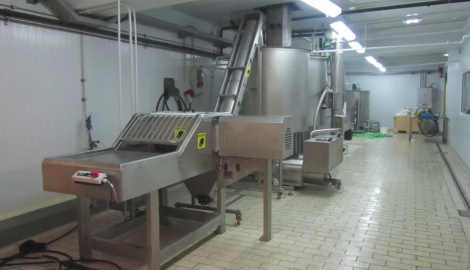 Brochures